Cosmetic Labels
Printed Labeling Solutions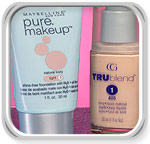 Cosmetics is one of the most active and successful markets today, and cosmetic labeling and packaging is a major part of that success. Your cosmetic label must appeal precisely to the market you wish to attract, and the product's label is critical part of the message to consumers.
Cosmetic labels are a specialty at Star Label Products. As with personal care labels, they can be customized and enhanced in many ways through our UV flexo and rotary screen capabilities. Adding foil or embossing to give the label that special touch is easily accomplished on our well equipped converting machines.
And remember, we can offer a multitude of top quality pressure sensitive films and papers to provide the ultimate enhancement to your product.